To achieve a high user participation in your Awareness training, it might be useful to do a personal follow up on your users. This ensures that they understand the importance of the Awareness training and knows that you are following their progress.
This can be done in multiple ways. However, a personal email from the admin may provide a great effect considering the time invested. We have therefore created a report for following up on your employees called "Follow up" or "Opfølgning". This report contains the usernames and emails of the users who have not yet completed their training, including their number of completed and assigned courses. You can use the report as an email list in order to remind the specific employees to complete their training.
Follow this guide to see how you can follow up on the Awareness training:
1. Click on Course enrolment & reports on your admin homepage.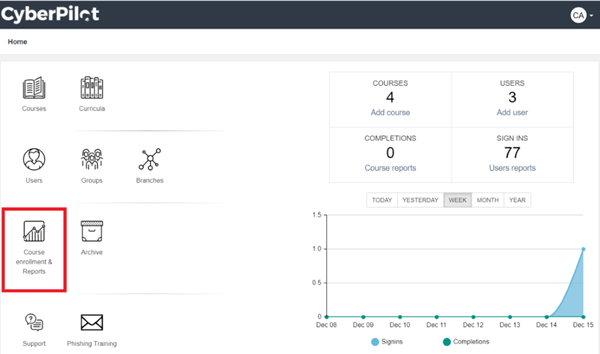 2. You will be directed to an overview page. Click on Reports.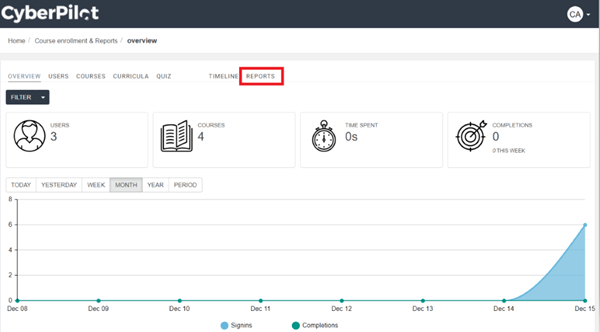 3. Under Reports you will see an overview of the reports available to you. Click on the Follow up report.

4. Click on Export and choose Excel to download the report. The report will open in Excel, where you can see the list of the users that have not yet completed their training.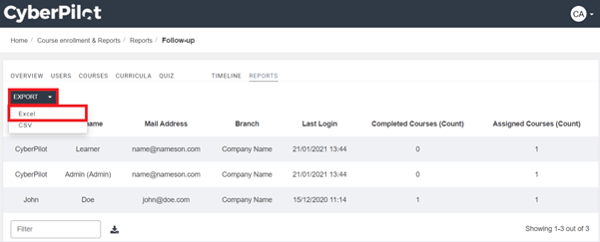 5. Once you have downloaded the report, you can copy the emails of the employees and start writing them a follow up email. It is a good idea to use the BCC function, so that they cannot see the other employees' emails.
Send them a message in which you, kindly but firmly, urge them to complete their training as soon they can, as it is important.
If you repeat this process often, it can help secure a higher rate of user completion.
Example of a follow up email
Here's an example of what a follow up mail can look like.
English version:
"Hey there
I can see that you haven't yet completed all of your awareness training courses. There is probably a really good reason for that, but please prioritise completing them as soon as possible, so that you are partaking in maintaining our cyber security practises. Remember: a course only takes about 5 minutes to complete
You log on to the courses through this link: www.security-platform.dk (Note: Remember to insert your own URL if you have set up AD integration).
Have fun"
Danish version:
"Hej
Jeg kan se, at du endnu ikke har gennemført alle dine awareness-træningskurser. Det er der sikkert en god grund til, men du må gerne prioritere at få dem taget snarest muligt, sådan du er med til at opretholde vores IT-sikkerhed. Husk at et kursus kun tager 5 minutter
Du logger ind til kurserne gennem dette link: www.security-platform.dk (OBS: Husk at indsætte jeres egen URL, hvis I har opsat AD-integration)
God fornøjelse"