Branches gives you the opportunity to categorise your employees into sub-branches. This can be beneficial if you, for instance, need to handle a specific branch of users. It can make it easier to get specific report options and targeted enrolment of courses to specific users.
Note: If you wish to specify what courses are assigned to your different departments, we recommend that you use 'Groups' rather than 'Branches'.
1. To create a new branch, click on the Branches icon on your admin homepage.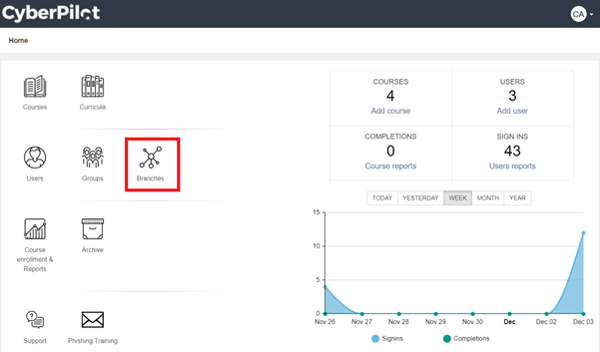 2. Under Branches you will be able to see an overview of all the branches your organisation is currently divided into. Here you can create more branches if you wish.

3. To create a new branch, click Add branch.

4. Give the branch a Name and choose which Parent Branch it belongs to. This will typically be the branch with your company name. Finally, click Add.

5. Once you have created the branch, you will be taken to the branches overview page. Here you can see a list of your employees and have the possibility to add them to the specific branch.

You will have to actively add your users to the branch, once it has been created. You will not assign users to any courses when you add a course to a branch. The courses are simply made available for the branch.