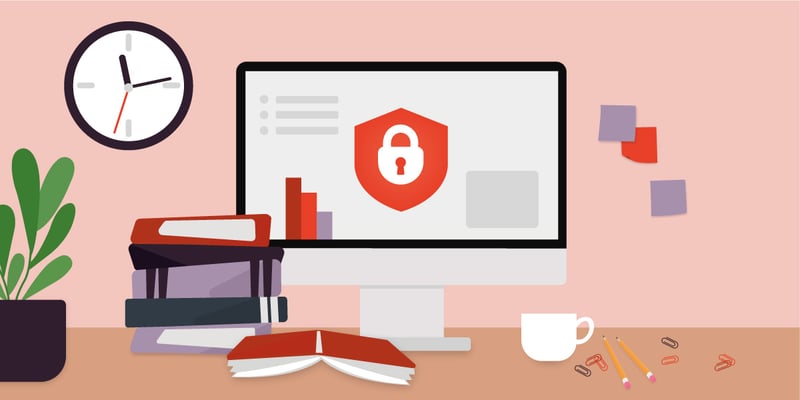 What Is Awareness Training? And How To Implement It Effectively
In this blog post we'll teach you about what awareness training is and what its uses are. Security awareness training shouldn't just be a checkmark that you can cross off to achieve GDPR compliance. With proper awareness training you can shift your organization's cybersecurity culture to be aware of the danger that cybercriminals pose. Good security awareness training will also reduce human error, which is the most common cause of mistakes that lead to data breaches. Read more to learn about the importance of awareness training.
Short Summary:
Security awareness training has many benefits, It reduces human error, improves your organization's cybersecurity culture, and helps you comply with the GDPR.
There are a lot of different topics security awareness training could cover. A few general topics are: how to protect your online accounts, different types of cyber threats like phishing, and how to safely handle personal data.
You can do training in-person, online, or with a mix of the two! The key to successful training is keeping it short, easy to understand, and continuous.


Table of contents
What is security awareness training?
Security awareness training is meant to help your employees understand cybersecurity risks and how to mitigate them. This is done by training and engaging your employees in various security awareness situations. This can be done online, in person or a mix of the two. IT security awareness training helps your employees understand potential risks and attacks they might meet on a day-to-day basis. It also trains your staff in creating a proper cybersecurity structure in your organization.
There's awareness training on various subjects such as the GDPR, legal grounds for processing personal data, data minimisation, as well as courses on cybersecurity, such as phishing, cybercrime, ransomware, passwords and more. Because the GDPR is so closely related to IT security, the topics for GDPR training and security awareness training often overlap. It can be implemented in different ways and with different kinds of focus depending on the needs of your organization.
Why security awareness training
is important
No organization is too small or too big to become a cybercriminal's next victim - and smaller companies have a lot to risk. Cyber threats aren't going away any time soon and hackers are constantly getting better and better at what they do. That's why it's important to stay aware. Here are some of the benefits that security awareness training provides.
Security awareness training leads to better cybersecurity
9 out of 10 security breaches are due to human error. With security awareness training for your employees, you can turn your staff into a human firewall and make them your best defence. In addition to strengthening your security, awareness training also reduces the security cost of each employee by 52%.
Organizations should therefore pay more attention to their employees' cybersecurity habits. Awareness training is an effective way to lower your risk of falling victim to a cyber-attack. Awareness training helps your employees identify and spot potential risks and threats to your cybersecurity.
Security awareness training improves your cybersecurity culture
Through ongoing security awareness training, you can create a positive change in your organization's cybersecurity culture. Educating your staff about internal and external security threats will make your cybersecurity culture stronger. To help you get started with improving your security culture, we have a research-based guide on how to create and maintain a strong security culture.
Having a strong cybersecurity culture at your organization shows your employees and your clients that your organization prioritizes security. It can set high standards for your employees' practices, reducing the risk of data breaches and indicate to your clients that your organization can be trusted. Your employees' behaviour, understanding, knowledge, and awareness of security issues and activities will be greatly improved.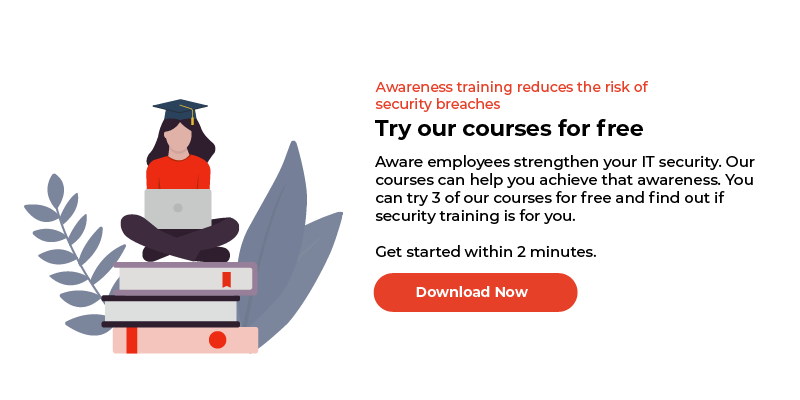 Security awareness training is part of GDPR compliance
Security awareness training also helps your organization comply with GDPR regulations, which require staff to be trained on IT security topics. It's important to make your team aware of the processes and responsibilities of your organization's IT security, such as the handling of personal data.
Personal data can briefly be described as information that can identify a person, such as name, address, phone number, occupation, date of birth and more. Personal data can also be categorized as sensitive, such as health information, race or ethnic origin, political and religious beliefs and more. If personal data is categorized as sensitive, the GDPR requires strict proper handling of this data. If this handling is done incorrectly, it can result in large fines.
Personal data can be complicated, and you can't expect your whole team to be experts in the GDPR. Security awareness training and GDPR training give you the opportunity to explain these complicated topics in a clear and practical way that your employees will understand. An excellent way to visually demonstrate what personal data looks like is with posters. We have a library of free posters about cybersecurity and the GDPR that you are welcome to download and use in your office.

What does security awareness training cover?
Security awareness training includes a variety of themes and categories related to cybersecurity and the GDPR. Here are some of the categories that are usually included in security awareness training and GDPR training.
GDPR training topics
The GDPR can be difficult to get your employees to care about and to understand. But you can improve awareness and compliance with the GDPR by training your team on the most important parts of it. For instance, awareness training can highlight the protection of personal data, GDPR compliance, legal grounds for processing data according to the GDPR, and more. Since IT security and the GDPR work towards the same goal, it's easy to blend GDPR training topics into your security awareness training program.
Cybersecurity awareness training topics
Phishing awareness
Phishing happens every day, that's why it's important that all your employees are aware of the threat. Awareness training also trains your staff to recognise and be aware of phishing attempts. Phishing awareness can include information about signs to look out for in phishing emails and information on the different kinds of phishing attacks.
Password security
Security awareness training could also be something as simple as making sure everyone in your organization is using a safe and secure password. This could be done by raising awareness about how easy it is for hackers to guess passwords, so that your employees don't reuse the same simple and common passwords such as "password123" for both their personal and their work accounts. If you want to know how to create a strong password, you can read about it here.
Two-factor authentication
Two-factor authentication helps your organization stay safe. All organizations are vulnerable to cybercriminals that can break into your systems to steal your user credentials. Using two-factor authentication negates the risk of compromised passwords and adds a second layer of protection.
Physical security
Security awareness training also helps your employees to know how they should stay safe in the real world. A few topics that can be covered here are how to stay safe when you're working from home, not leaving personal data on your work desk, and not writing your password on a sticky note next to your work computer.
Working from home
Security awareness training can also include what to do when you're working from home to keep your employees safe on the internet. It's easy to forget good digital habits when you're working from home, so there are lots of things to be aware of.
As you can see, security awareness training can include various themes and can be easily combined with GDPR training. If you want to know more about what kind of categories awareness training can include, visit our course catalog to see all the courses we offer in our awareness training here at CyberPilot.
How to implement a security awareness training
program
For a strong cybersecurity culture, it is important to implement security awareness training properly. It's also important to maintain the awareness training and make it an ongoing learning process and not a one-time thing. If you make it a one-time thing, your employees will forget it soon after. One way to do this is to use microlearning, which gives short lessons over a long period of time.

Every organization is different, so you must consider the things that matter most for your individual organization. You should identify which cybersecurity and IT topics are most relevant to your organization and then build a security awareness training program around them. Such as what kind of organization are you? And what challenges do your employees meet from day-to-day? What is the goal of the awareness training and how do you reach it?
Set goals for the security awareness training program to determine your focus
Figure out your goal for your security awareness training program. You should set goals for your training to determine your focus. What do you want to improve in your organization? Here are a few examples to help you determine your focus.
Shifting your organizational culture when it comes to IT

Becoming less vulnerable to hacking attempts/malware/ phishing attacks
Common issues in security awareness training programs without focus
If you don't specify the program content to your organization's needs, you could face these common issues in security awareness training:
Your employees don't understand the value and purpose of the awareness training and lack motivation
The awareness training program is time-consuming and difficult. This leads to the awareness training being downgraded and not prioritized

The awareness training is treated as something to check off, instead of a change of cybersecurity culture

The awareness training is inconsistent and quickly forgotten once finished
Now let's talk about how to best implement security awareness training in your organization, so you avoid these mistakes and so you can succeed with your awareness training.
Make awareness training easy
Keep it simple. The security awareness training should be available and suitable for all employees throughout your whole organization. You don't have to explain all the technical parts of a phishing kit or the technical details of how ransomware works. You should have content that everyone can understand, easy-going language, examples and relevant courses.
K

eep awareness training sessions short
Time is money. The security awareness training shouldn't be unnecessarily long. Would you rather do a quiz that takes 5-10 minutes or read 100+ pages about cybersecurity? Keeping the training sessions short and simple makes them more memorable to employees. Employees can even come to look forward to the training as a fun and productive break in the regular work schedule.
Posters as security awareness training materials
Security awareness training doesn't have to be something grand. It could be a simple thing such as posters that reinforce your organization's views on good digital habits. Posters are a cost-effective way to create a major impact on your cyber security culture, as they serve as reminders. Having posters displayed around your office doesn't require much effort yet they convey important messages in a simple way. You can see and download our free GDPR and cybersecurity posters here.
Security awareness training online vs. in person
Both traditional (in-person) and e-learning have their benefits.

Traditional learning has the benefit of your whole team coming physically together for a couple of hours. It might be very engaging since your employees can ask the expert questions directly, but the number of learners in the classroom might be too large and group discussions can risk turning into monologues.

E-learning is much more flexible than traditional learning. It gives your employees access to an online platform to learn from when they want/have time for it. It engages and motivates your employees via interactive tools on a continuous basis. E-learning is also more cost effective than traditional learning and has a high return on investment. It also has an accountability factor, as you can track your employees' progress in completing learning activities. You can read more about how to combine online and in-person security awareness training in our blog.
Continuous awareness training to enhance learning outcomes
So, what is continuous learning? It's the process of learning new skills and knowledge on an ongoing basis. Therefore, embrace a continuous learning strategy and make use of security awareness training on a regular basis, so that employees are kept up to date on the latest forms of cyber-attacks.

Security awareness training that is based upon continuous learning and is easy to digest will help strengthen your organization's level of IT security. If your staff only receive training one time and then forget about it soon after, you haven't made much progress. That's why your security awareness training should be a continuous learning process, so your whole team can see the benefits of the training program throughout time.
Our research also shows that continuous security awareness training works! For example, after continuous participation in CyberPilot's awareness training and phishing testing, users had over a 50% reduction in mistakes made during a simulated phishing attack. The graphic below shows how impactful continuity can be, with fewer mistakes made after each new round of training.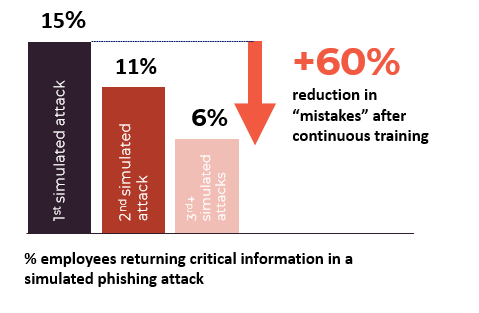 How often should you do security awareness training?
You want the training to be often enough that your employees remember safe practices, but not so often that it becomes a burden. You shouldn't push your employees to do all the security awareness training courses at once, but instead split the training over a longer period instead. By splitting the training over a longer period, it will give your employees time to reflect on the training as well as relax. A monthly program could be a good idea, or every second month. You should figure out the training intensity that fits your organization's needs. We've made a recommended course plan to give you some inspiration on how to structure your awareness training. Depending on your priorities, you can use a plan that focuses on phishing and social engineering courses or that alternates GDPR and IT security training topics.

So now you know that security awareness training and GDPR training are not just checkmarks to be crossed off, but a continuous process. Your training must be customized and tailored to your employees and your organization, so that you get the most out of it.

If you want to know more about how to implement security awareness training properly, you can read about our 11 tips on how to succeed with awareness training.
How to measure the effect of security awareness training
There are many ways to measure the effectiveness of awareness training and there are many facets when it comes to IT and cybersecurity. You should therefore make sure that you talk with your employees about their satisfaction with the security awareness training and the way they communicate about security breaches.
Refer to your original goals when evaluating the success of the awareness training program. To what extent have you achieved or improved upon them?
Every organization is different
There are many ways to measure the effects of security awareness training. How your organization measures the effects of training on your staff also depends on what kind of organization you are, the size of your organization, and the goal of your awareness training. You should monitor learning activities and ask your employees for feedback. You can also use our risk analysis template when evaluating how your security awareness training is going, since training is used to reduce the risk of security incidents.
Conclusion: Awareness training strengthens your security
We hope you've learned what security awareness training is. Your team's knowledge, behaviour and diligence are of crucial importance to your organization's cybersecurity. We hope that you've learned about the things that security awareness training includes, the different ways that you can implement awareness training in your organization, how to combine security awareness training and GDPR training, and how to measure the success of your awareness training program.

The main takeaway of this text is the importance and difference that security awareness training can make in your company. Awareness training can improve your organization's cybersecurity culture, achieve a higher level of security across your whole organization, and secure a strong foundation for compliance with the GDPR. There are a lot of different ways that security awareness training can be done. Implementing security awareness training is about setting the right goals for your organization and evaluating the best way to do it, whether it's online, offline, or a mix of both. Security awareness training is not just something for big organizations. Both small and mid-sized organizations can greatly benefit as well.

Some organizations create their own security awareness training programs, while others prefer to work with an external training partner. There are benefits to both, and it's important that you consider the time it might take you to develop, implement and maintain a training program when deciding whether to work with a training provider.

You can try out our awareness training for free for 14 days if you're interested in implementing security awareness training in your organization.
Sign up for our

newsletter
Join our 2000+ subscribers and sign up for our newsletter.
You will receive inspiration, tools and stories about good cyber security practice directly in your inbox. Our newsletter is sent out approximately once a month.